CH introduced this conversion first time in 2012 when the first CDI was developed and tested.
This conversion is one of the best option if you want to 'RUN AWAY"from Glow Fuel.
By adding the CH CDI & CH hardware you will have a close to perfect solution, less
expensive since you on ready have the engine instead of  buying a new one.
The CDI provides a better starting, better Idle and one of the best features is the
Saving on fuel.
Fuel will not be gashing out like on GLOW Plug, your airplane will be cleaner and
close to NO  wiping after a fun day at the field.
Engine will run hotter, ensure proper air flow for cooling .
Use 20:1 Fuel Mix (50 ml oil to 1 L gasoline ),
I use Morgan OIL CP14 , also Evolution Oil, Royal Purple 2 ST.
Power loss is 10% but still enough power . If you are border line on power then consider the other conversion…GLOW CH CDI Conversion
We also offer full install and test run Service for a flat rate of $100 ( 2 hour labor) and many times we go way over 2 Hours.
A timing kit is also available, check in related products or under Timing Kit
Check the Install Manual on the "Manual"   Tab
Included Hardware:
1 x CH CDI Made in the USA
1 x Magnet adjustable ring
1 x Sensor holder with sensor
3 x 1/4-32 Spark Plug   ( same thread as your glow plug)
2 x M3 x 14 mm  cap screw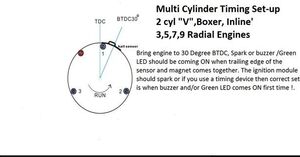 Time 30 Degrees BTDC when sensor/Magnet on cyl #1 first come in contact.